Version 2.1 of Kuuvik Capture is now available on the Mac App Store. This update brings a handful of new features and a few fixes. Let's start with the new features.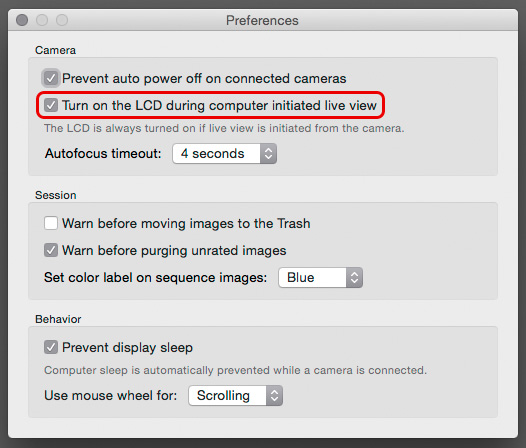 First, a new preference is added to control whether the camera's LCD is turned on when you start live view from within Kuuvik Capture.
If you turn this preference off, the camera's LCD will remain turned off to conserve battery. But you can turn the LCD on any time with the live view button on the camera.
When you start live view directly on the camera, it's LCD will turn on regardless of this preference (chances are that you engaged live view on the camera because you want to look at the LCD).
Upon user request, the number of focus bracketing steps had been increased from 30 to 100. And I've added hot keys to the Purge Unrated (Cmd-P) and Purge Unrated and Decrease Rating (Shift-Cmd-P) culling commands.
The bug fixes are the following:
Live view is now automatically stopped when changing lenses or when the camera is disconnected.
Live view navigator zoom labels now display "6x" and "16x" for the EOS 5DS and 5DS R. The navigator frame's size is also corrected to reflect these zoom levels.
ISO 16000 now can be set from Kuuvik Capture on the EOS 7D Mark II, even if using full stop ISOs is set on the camera. This is in line with the camera's behavior.
Version 2.1 is a free update for existing Kuuvik Capture 2 owners.